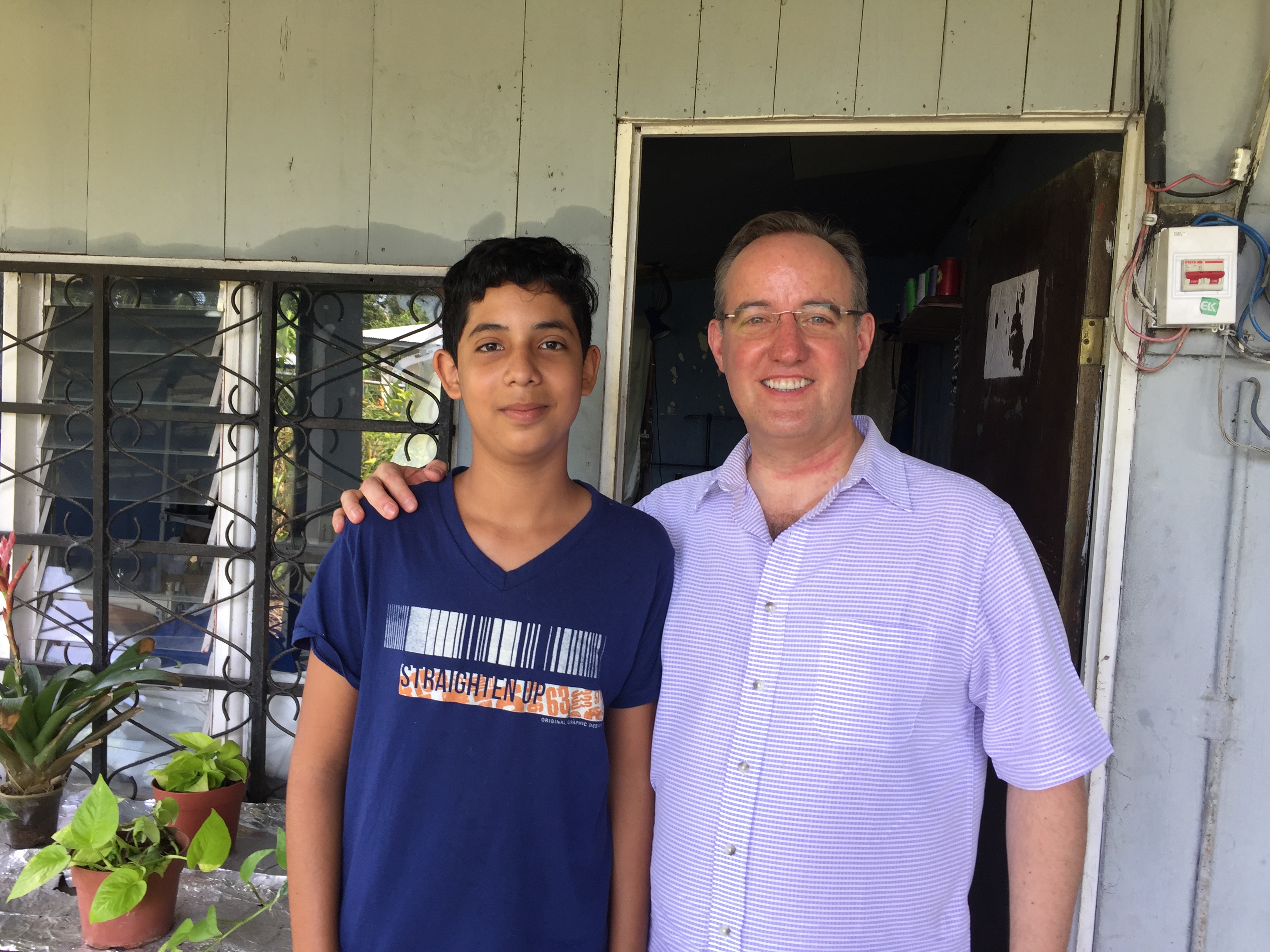 So God created humankind in his image; in the image of God he created them.²
Sitting on the front porch of a home in Costa Rica on a hot morning, I was suffering from a communication deficit with a family which my friend and host, Ted, wanted to introduce to me. The family lived in a simple home filled with the beauty and warmth of hospitality, and I was grateful for the opportunity to see how the people of Costa Rica live. As we sat on the porch in the afternoon heat of the tropical sun, it soon became apparent that the father was going to be running late. His wife quickly sent their 14-year-old son, Oscar, to the corner market for a beverage. In what only seemed like a matter of minutes, Oscar came running home with a big, plastic bottle of lemonade in his hand, and he soon began serving each of us a glass with the biggest smile on his face. It was obvious that Oscar found joy in hospitality.
After taking that first refreshing sip, I tried to express my gratitude in a language I've never learned: "Mucho Gracias. Bueno. Cómo estás?" Oscar smiled and laughed as I tried to speak in his mother tongue; and Ted watched with humor as the two of us tried our best to communicate with hand motions, sound effects, and facial expressions. Obviously, Oscar and I would need Ted's help if we wanted a serious exchange of ideas, but Ted wisely let us forge a friendship as best as we knew how without the constant interruption of a translator. And by the time Oscar's father came home with his truck to take us on a tour of the area, I knew I had gained a new friend in Oscar and by extension his parents.
Anyone could quickly come up with a list of reasons why Oscar and I would never become friends: an obvious language barrier, cultural differences, and a big generational gap. It's only too easy to come up with such a list when you are comparing a High School student with a man in his early 50's. But a simple glass of lemonade on a hot day in Costa Rica broke down the very barriers society often tries to erect.
Oscar seemed to want to get to know me, not because I was cool, charismatic, or American, but because I tried in my own awkward way to get to know him. And in the process, we found that we had something important in common: we were made in the image of God with a capacity and desire for human relationship. A shared reality allowed us to forge a new friendship.
The story of the Road to Emmaus reminds us that Jesus often met with people over a meal to share God's love and grace one on one (Luke 24:31)³. As the disciples shared that meal with Jesus, their "eyes were opened, and they recognized him." As I shared a glass of lemonade with Oscar, I saw a person made in God's image and loved by Christ. And in that moment, I knew Oscar and I shared a common bond that age, culture and economics could not separate.
Perhaps you are still wondering if I really do believe that something as simple as a glass of lemonade can open the door to a meaningful friendship. The answer is yes because I have seen it happen over and over again in my life; and I hope you will discover the same truth in your life because the world is filled with people who are hungry for meaningful relationships.
© Adrian N. Doll, Green Valley Presbyterian Church, 2018
______________________________________________
¹On January 15, I returned from a week-long exploratory trip to Rio Frio, Costa Rica to learn about the ministry of Ted and Gracie Quiocho, mission workers with One Another Missions, who are supported by Green Valley Presbyterian Church.
² Genesis 1:27
³Luke 24:31